*This post may contain affiliate links. As an Amazon Associate we earn from qualifying purchases.

DIY Rugs on a Budget and fully customizable to your size and decor!  
Whether indoor, outdoor, home, camper, tent or events, a rug helps define a space and bring your personality to a space. DIY rugs are also super functional pieces of art.  The problem is when we get into the store either the pricetag is a shocker or they only carry bland, cookie cutter styles.  I have two dogs, a big yard that gets muddy let alone on snow days where we need a place to lay our shoes.  We have four doors between home and garage too.  Then get into bathrooms, kitchens, dog food mats (aka diy rugs) and if you've got a kitty litter box………….  o.k. you're getting the idea, rugs are used everywhere.  A work friend recently showed me she even puts a small rug outside her horse trailer (front side where she keeps her tack) as well as under her picnic table in her camp area when on weekends at a local campground.  I even know there are some of you who use cut up pieces for car mats!
Now imagine using your imagination, some supplies you may already have on hand and customizing all those spaces!  I super love the upcycled ideas here and for you yarn hoarders or paint enthusiasts, there's something for pretty much everyone and every space!
How to Make a DIY Pom Pom Rug – Inspiring Savings
DIY Chevron Painted Rug – Love & Renovations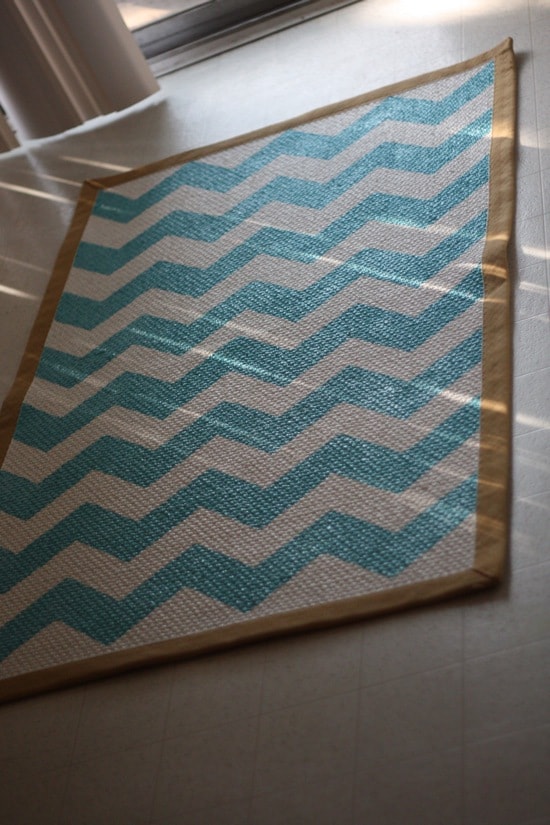 Half Hexagon Crochet Rug DIY – Pop Shop America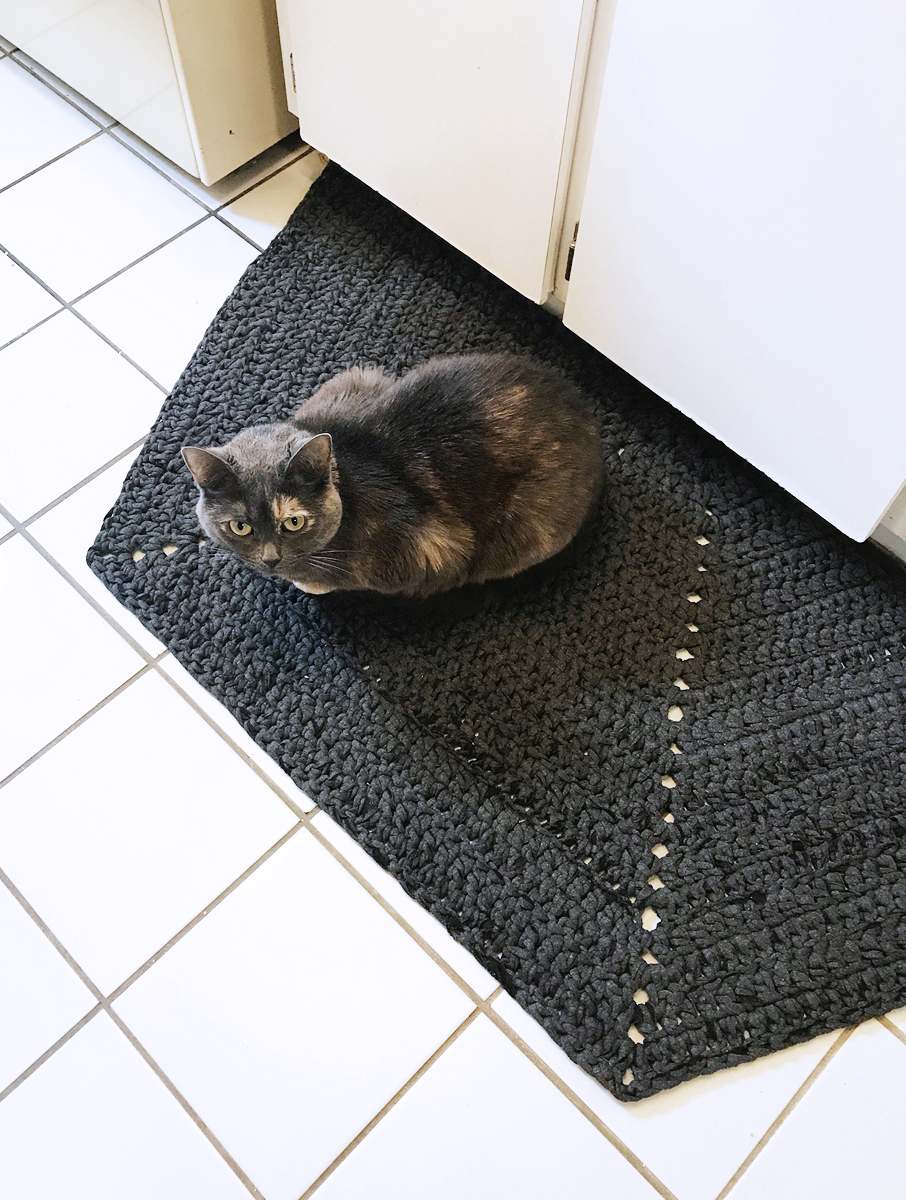 DIY Rag Rug – Sustain My Craft Habit
How to Make a DIY Pom Pom Rug – Make and Do Crew
$4 DIY Rug with Tassels – Houseologie
How to Make Carpet Sample Area Rug on a Budget – Diva of DIY
West Elm Inspired DIY Painted Rug – Place of My Taste
DIY Cowhide Rug – Rain on a Tin Roof
DIY Painted Astroturf Rug – Rain on a Tin Roof
How to Make a Custom Kitchen Rug – The Crafty Blog Stalker
Repurposing Jeans Waistbands into a Gorgeous Denim Rug – Pillar Box Blue
Make Your Own Rug with a Drop Cloth – The Handyman's Daughter
Upcycle Sweaters into a Gorgeous DIY Felt Rug – Pillar Box Blue
DIY Pokeball Rug – The Handyman's Daughter
DIY Cork Circle Rug – Dream a Little Bigger
Stenciled Circle Rug Tutorial – Tatertots & Jello
Oh I just adore all of these and when you take a moment to click their links you'll find all this and so much more.  All have great instructions and inspiration!
Looking to add some more personal touches to your space?  Check out these DIY and 'no sew' Curtains and 'no sew' Pillows!