*This post may contain affiliate links. As an Amazon Associate we earn from qualifying purchases.
DIY Magnets can be a super fun and easy and well you guessed it, Frugal craft to do as a family or hoard the craft to yourself and WOW the family with your fancy skills!  (be warned small objects so use your best judgement with little ones and pets!)  When we moved some 20 years ago I had an entire freezer bag filled with magnets of all kinds.  The ones with phone numbers of town emergency services, some with sports pics of the kids and the early days of my diy magnets, small wooden shapes painted with magnets attached to back.  Flash forward.  Most of my magnets are just gross.  We touch them with our dirty hands, the kitchen ummm, grease? or whatever that stuff is that accumulates over the year, YUK! Am I the only one who does not clean my magnets? O.K. well, now I'm a bit more grown up and well, the kids are now the grandkids and it was time for a new look.  I also wanted to have some inspirational ones for a command center.  DIY magnets have become a big thing since pinterest (not around in the olden days!)
Looking for a personal touch on your fridge, command center or office?  This is pretty much as simple as it gets and the supplies are so affordable you'll be able to make enough to put aside for gifts or favors!
Fun n' Frugal DIY Magnets for Your Fridge!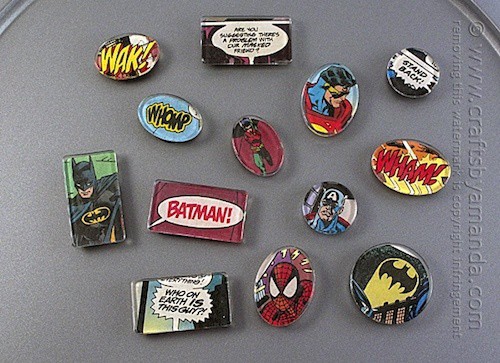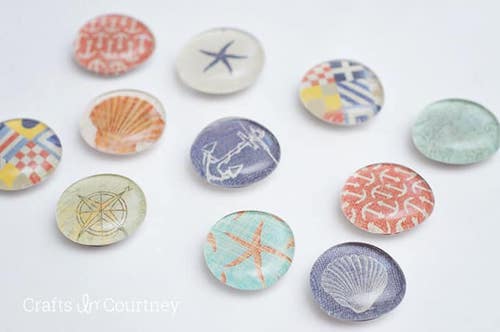 Just a quick little diy money maker tip:  I have seen these displayed at craft fairs and they sell like hot cakes.  Keep the prices low low low and you'll run out of them before you know it!  Another great idea is to sell them on Facebook or Etsy.
Related:  Selling tips for listing on Etsy