*This post may contain affiliate links. As an Amazon Associate we earn from qualifying purchases.
Inspiring  teenagers doesn't have to be as hopeless as it seems some days. Yes, I'm talking about the precious, delicate and oh so volatile teen!  Inspiration comes in all shapes and forms. You need to speak their language.  You want to look and see what makes them tick, what sparks, what ignites their curiosity, passions, and soul!  Teenagers especially are very passionate, creative and unique individuals.  Self Confidence is shaky at this age.  As adults in their lives (that's you aunts n uncles, teachers, neighbors, friends!!) not only parents, we need to remember how painful and passionate a time it was in our own lives and what we found comfort in.
Inspiring Teenagers
I was recently browsing through some wall art ideas for home and came across some brilliant ideas.  On my path I was coming across these great inspirational pieces I was finding myself re-visiting that well, dreadful (for me) time in my life. I'm talking my teen years!  If you have read my 'about me' page you know those days in my life were a bit challenged. O.K. so I am getting off path here.  Let's round back to the ways to inspire teens post I started out wanting to share.
I found some wonderful and affordable ways to help you with inspring teenagers.  I spotted this  Wall Art that I thought how great would these be to encourage our teens on  what they could be, who they could become and where they want to go in their lives.  Heck, i'm picking one out for myself!  We could ALL use a bit of inspiration in our lives and these turn out to be a wonderful way to decorate too!
This first one speaks to me over and over again!  As a child from the David Bowie days of course this was a favorite, however we can truly all be heroes in so many ways.  A smile could come at just the right time. A helping hand could be the hand that change the course of someones life. THAT is being a hero in my book!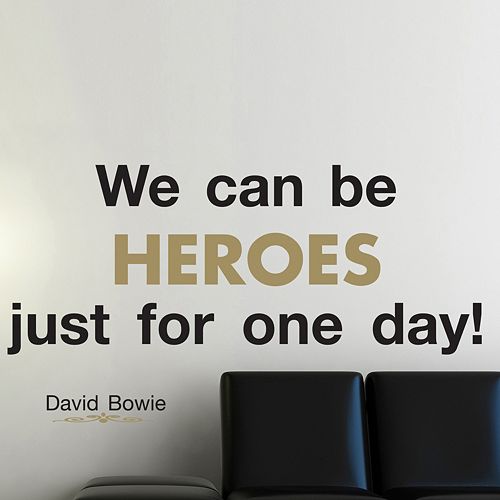 Maps and Dreams of far away places have always mesmerized me. I'm not a traveler nor do I have any great desires to travel, however, they do allow me to dream of how others live, love, learn, celebrate in other worlds.  I find maps both comforting and exhillerating.  Do you have a teen intrigued by the world?
Self adhesive peel and stick backing makes installation a breeze. Reposition, removable, reusable and crinkle free
Do you live with an aspiring Rock Star ?  Oh, I seriously wanted to grow up and be Tina Turner, yeah.. I just dated myself haha.  My Grandson has taken a recent love of guitar playing and I'm 100% for encouraging any and all artistic creativity!
Decals make a fast, no-fuss alternative to messy paint and stencils. Self-adhesive backing removes without any surface damage. Made of vinyl.
Do you have a Dog Lover? This chalkboard is super adorable and functional  while still being an inspirational reminder of their love of dogs.  Mom or Dad can even sneak in a little note of encouragement here and there if they dare!
And while we are encouraging them to become confident, loving adults, let's not forget…   they still and always will need to know you are there …. Always…  xoxo
Afterall our love for our child is not just about artwork or decorating a room, it's about how we learn to love, grow, create 'together' and develop a bond that will be there beyond their time with us.  With Love, Confidence, Encouragement the possibilities are infinite.
We are all so unique and have a multitude of passions all to our own personalities and desires.  I really wanted to open up the door to another way to inspire, nurture, encourage our teens in the place they call home.
Thanks bunches and bunches for stopping by and sharing my love of helping others through inspirational wall art ideas.